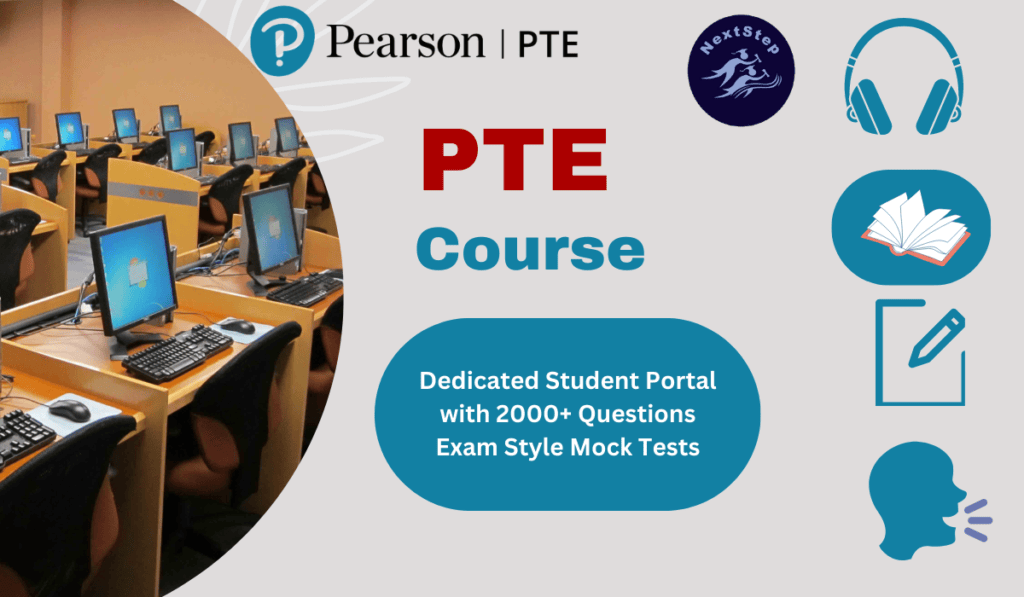 Best PTE course in Dhaka
Next Step PTE Mock Tests & Coaching Center
Great news!! NextStep offers best PTE course in Dhaka at our Uttara campus and online by highly experienced experts qualified from UK & Australia. Our PTE courses include world class study portal exam style question patterns and exam style mock tests. So, you can consider us the best PTE Coaching in Dhaka.
Are you struggling to get desired score at other English test?  If yes, Pearson Test of English (PTE) would be the best choice for you.
Although you need almost same English skill like IELTS, most of students found it less stressful than IELTS. Shorter exam length and modern structure of test might be the best option for you to get a fantastic score.
NextStep helped more than ten thousand students get their desired score in PTE, IELTS, and OET. Contact us today to get the experience of world class learning method that we started 2017. If you are looking best PTE course in Dhaka, look no further and knock us today.
Call us today 09603 004411
(9.30 to 7.30)
or book your course online now.
How is it best PTE Course in Dhaka?
Highly Experienced experts
Free Study material
Free mock test
PTE test booking
One to one feedback
Modern Computer lab
Excellent result record
More Than 5 years of experience
More than 2000 itemized question sets
80 Partial Mock Tests
Exam style full mock tests
Pearson style AI test marking
Suggested Answers with explanations
Frequently asked questions (FAQ)
Where is it accepted?
All leading universities of UK, USA, Canada, Australia, New Zealand, Ireland, Germany, Denmark, Sweden, Norway, South Korea, France etc.
Immigration authority of UK, Australia, New Zealand.
How long is the PTE test?
What is the test format?
Part 1: Speaking and Writing (57 to 64 minutes)
Part 2: Reading (29 to 30 minutes)
Part 3: Listening (30 to 43 minutes)
Is it easier than IELTS?
It depends, you need almost same type of English Skill. However, exam format is less stressful according to the most the students who took both tests. Moreover, test length is shorter than IELTS.
PTE Tests Result Validity
PTE Test Result is valid for 2 years
PTE Academic Test Overview
Pearson Test of English (PTE) is one of the most popular English Testing system. Many individuals find it as stress free testing method. However, PTE doesn't offer paper based exam at all. You need to sit on computer. On the other hand, IELTS offers both paper based and computer based testing system.
Call us today  09603 004411 to book your course, mock test and PTE Main Test.
To know more in details about IELTS & PTE options please read this article. IELTS or PTE?