IELTS Coaching in Dhaka, Bangladesh
Looking for best IELTS Coaching Centre in Dhaka?
NextStep, the best IELTS coaching in Dhaka with excellent success records, offers the IELTS courses  by highly experienced experts qualified from United Kingdom and Australia. NextStep offers bespoke IELTS coaching in Dhaka with personalized feedback.
Moreover, we run in small batches (maximum 12 in online class & 15 in face to face class)  to provide one to one feedback. We offer different types of IELTS courses according students' strength and availability. Next Step offers best interactive online IELTS courses in Bangladesh. 
Limited seats call us today
09603 00 44 11
01946 00 44 11
Our Face to Face Courses
Please Click on + to see course summary 
Why NextStep is the best IELTS coaching in Dhaka?
Excellent previous records

Individual care

Highly qualified experts from UK & Australia

Free books

Online support

Free mock tests

Free repeat classes 

Class recording facilities 
Don't just take our word for it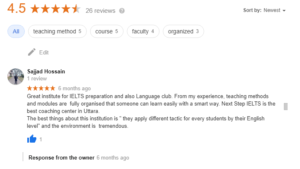 NextStep helped me to achieve an overall band 7 and individually not less than 6.5 and an outstanding 8.5 in listening. The teachers and the teaching methods are just amazing. I would highly recommend this coaching centre for any individual who is looking forward to sit in an IELTS exam.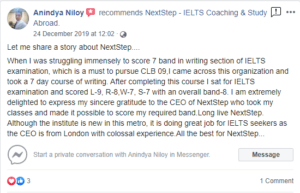 Let me share a story about NextStep….
When I was struggling immensely to score 7 band in writing section of IELTS examination, which is a must to pursue CLB 09,I came across this organization and took a 7 day course of writing. After completing this course I sat for IELTS examination and scored L-9, R-8,W-7, S-7 with an overall band-8. I am extremely delighted to express my sincere gratitude to the CEO of NextStep who took my classes and made it possible to score my required band.Long live NextStep. Although the institute is new in this metro, it is doing great job for IELTS seekers as the CEO is from London with colossal experience.All the best for NextStep, IELTS Coaching in Dhaka
Frankly speaking, according to my understanding most of the IELTS  coaching in Dhaka BD try to make the students frightened about IELTS exam so that candidates would get more dependent on their lectures and sheets. And this is the core business policy of this industry.
I was lucky that i had realised it before being too let. So I took preparation in my room and faced some difficulties in writing section so I found out #NextStep and did a 6 days writing short course from there. That guidelines helped me a lot in writing as well as I got the confidence which was a must to sit for the exam.
The most appreciated things about it that the teachers focus on you individually and that really helps you to cover up
 ur limits and get good band in IELTS exm..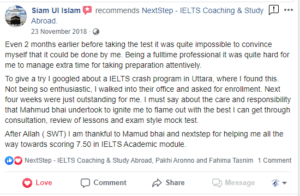 Even 2 months earlier before taking the test it was quite impossible to convince myself that it could be done by me. Being a fulltime professional it was quite hard for me to manage extra time for taking preparation attentively. To give a try I googled about a IELTS crash program in Uttara, where I found this. Not being so enthusiastic, I walked into their office and asked for enrollment. Next four weeks were just outstanding for me. I must say about the care and responsibility that Mahmud bhai undertook to ignite me to flame out with the best I can get through consultation, review of lessons and exam style mock test. After Allah ( SWT) I am thankful to Mamud bhai and nextstep for helping me all the way towards scoring 7.50 in IELTS Academic module.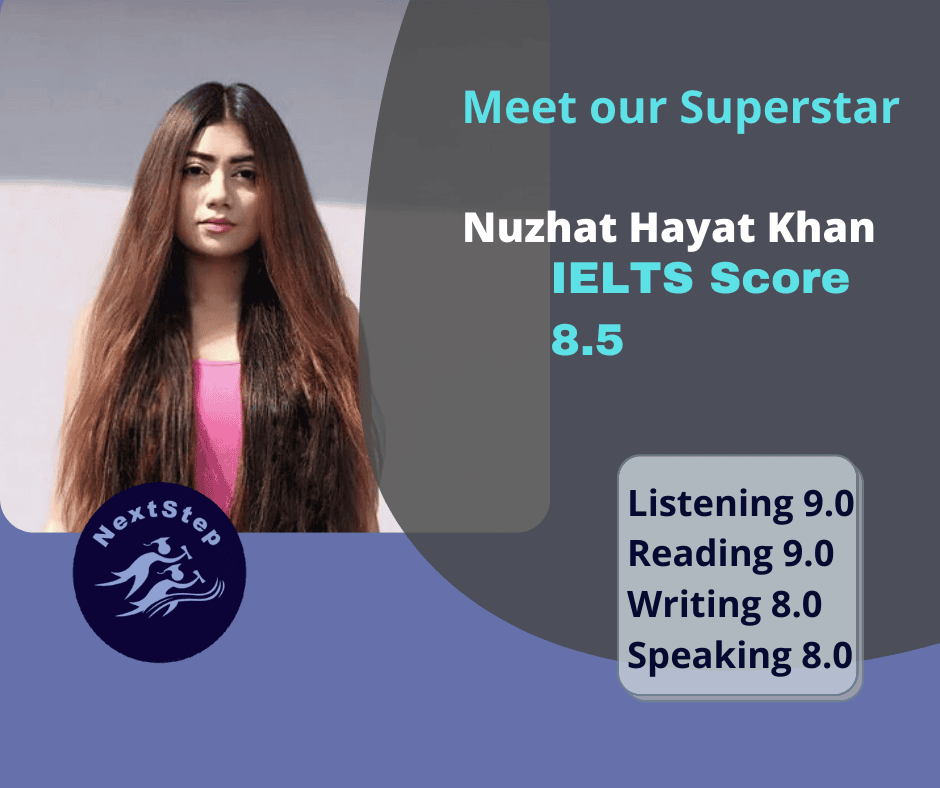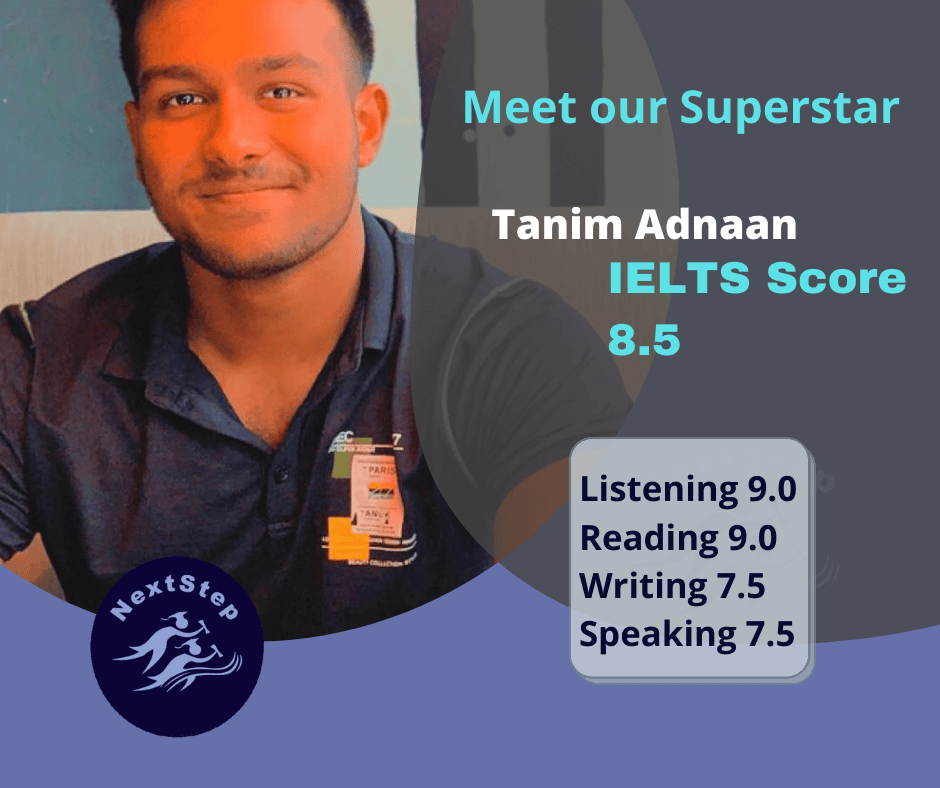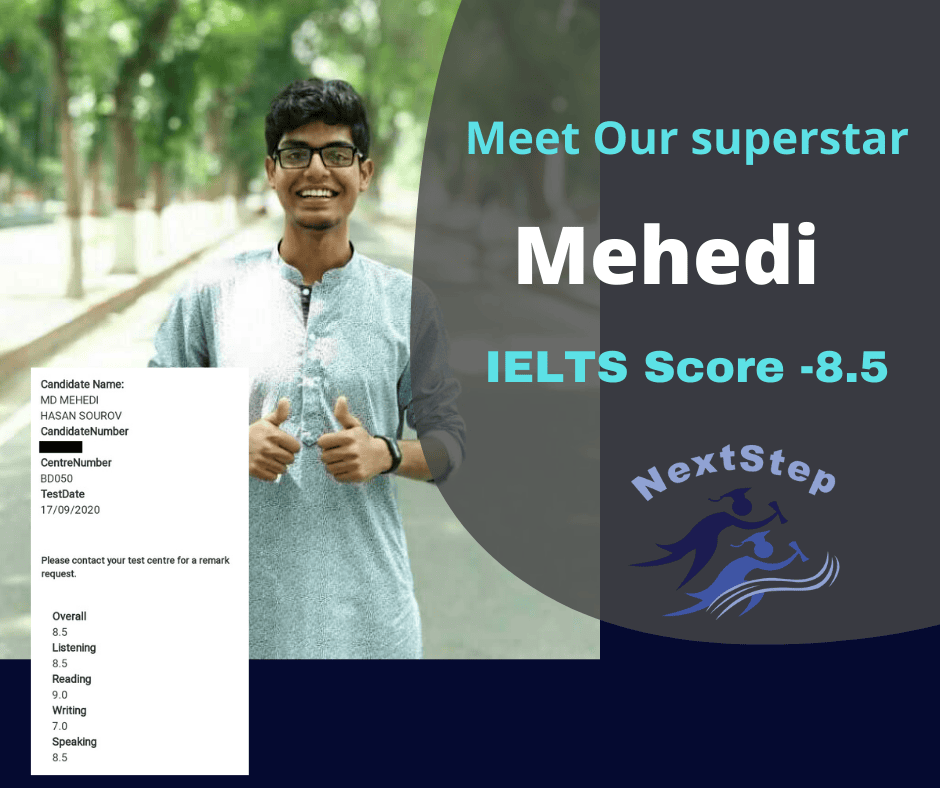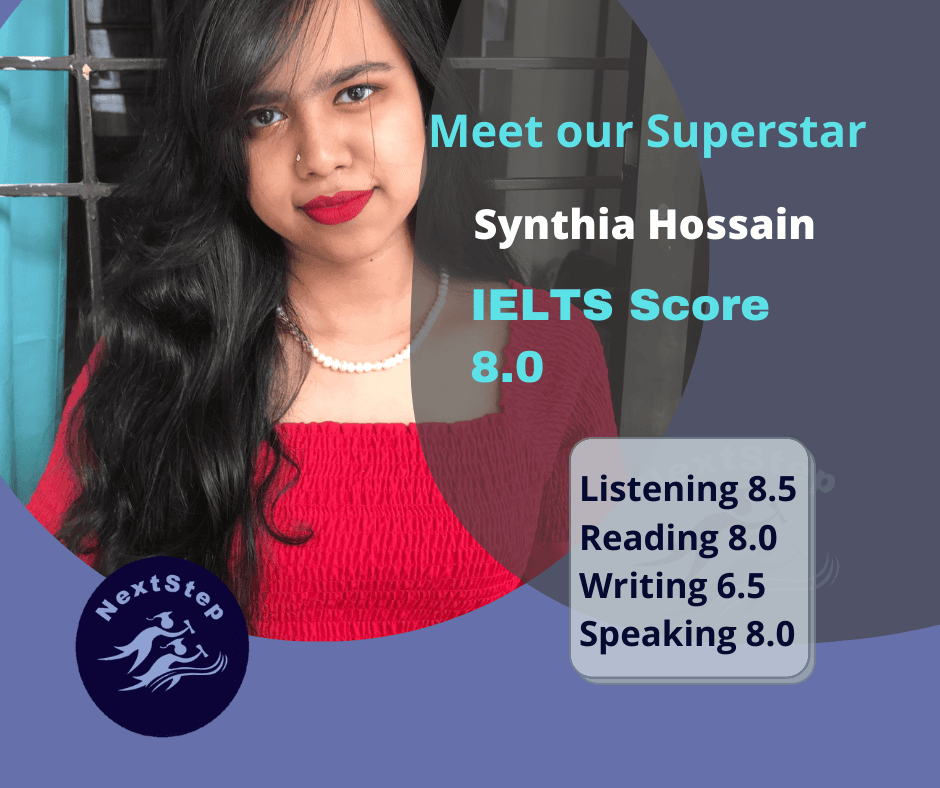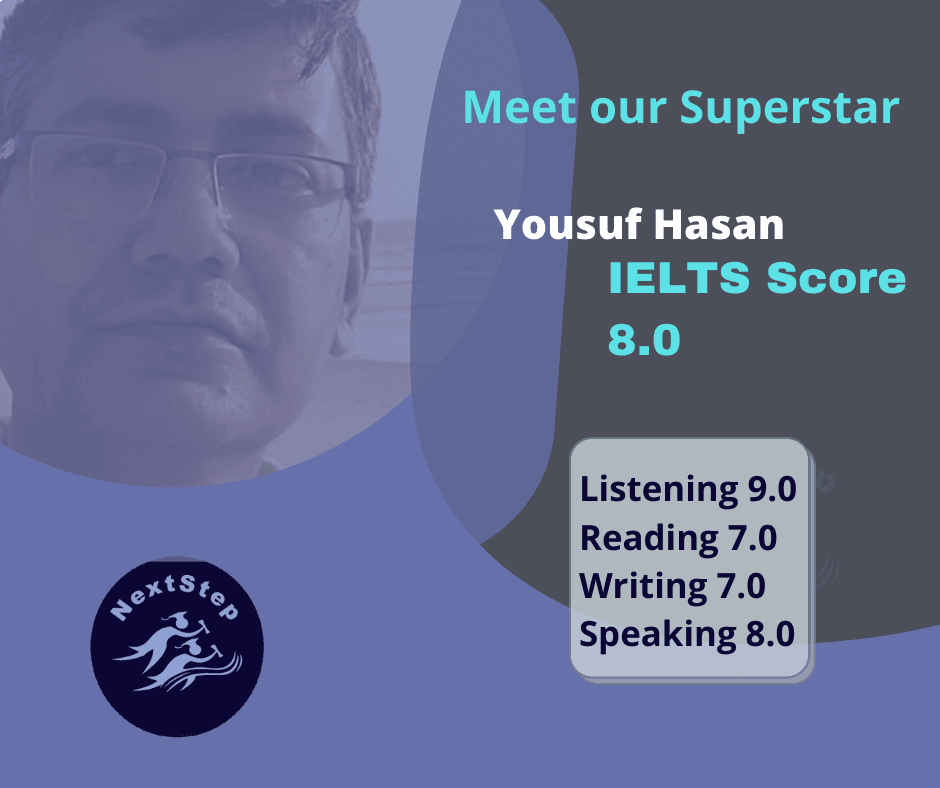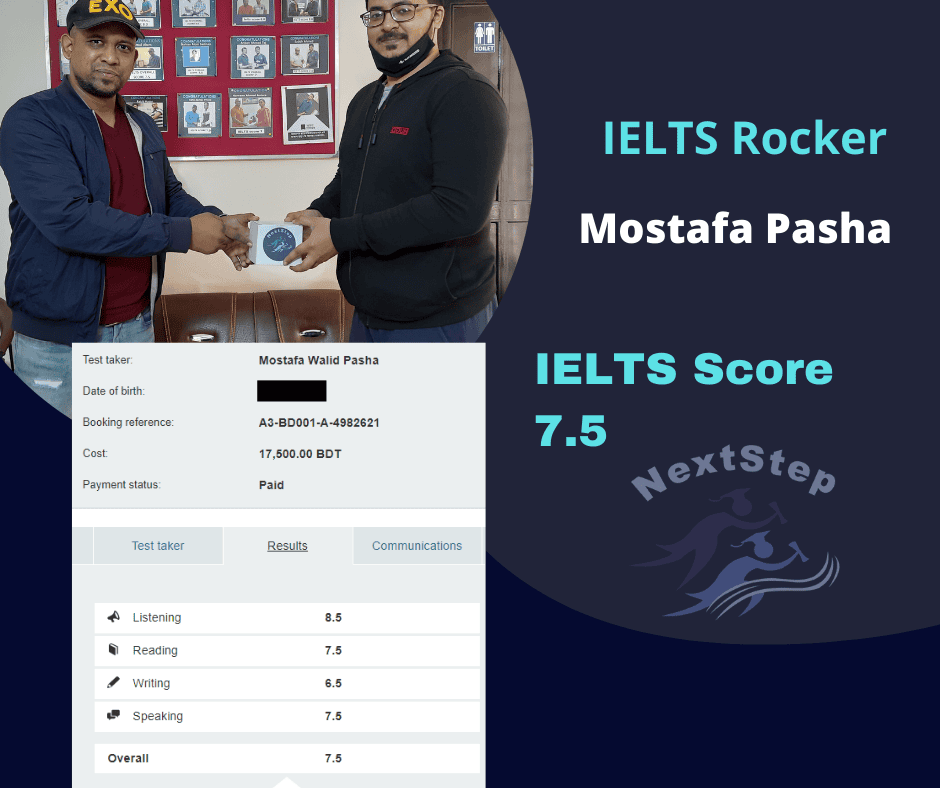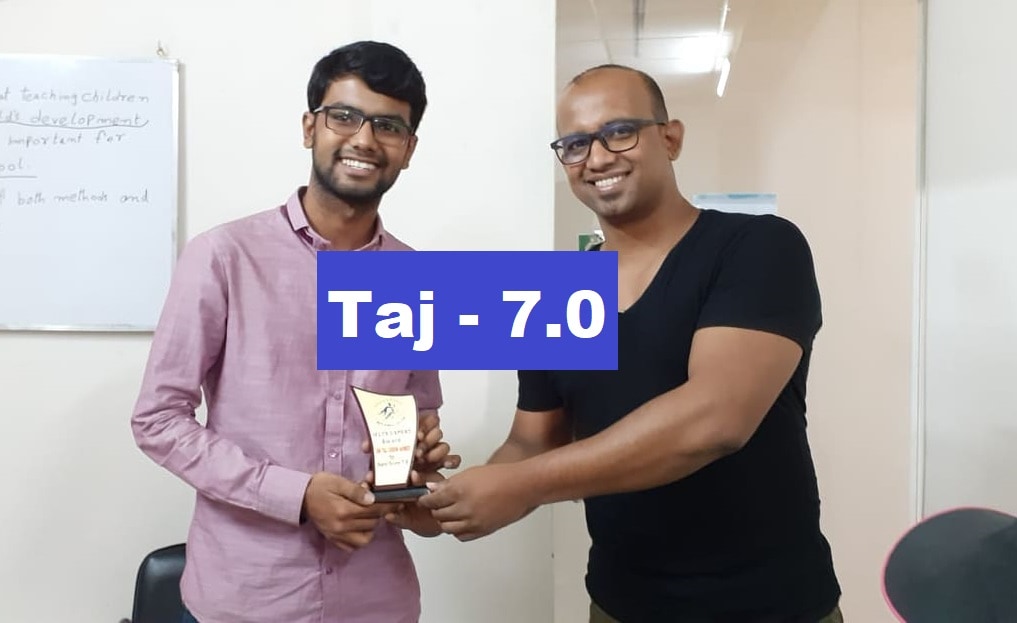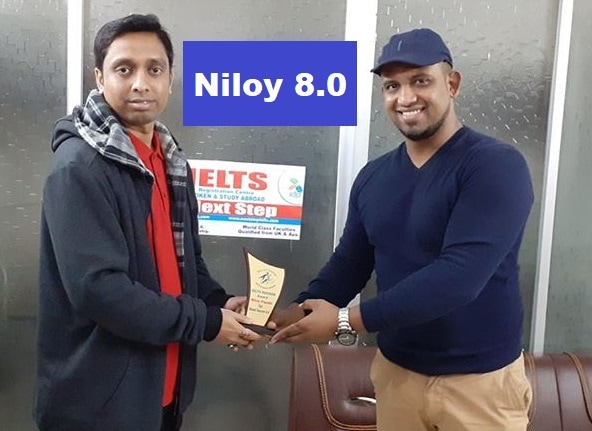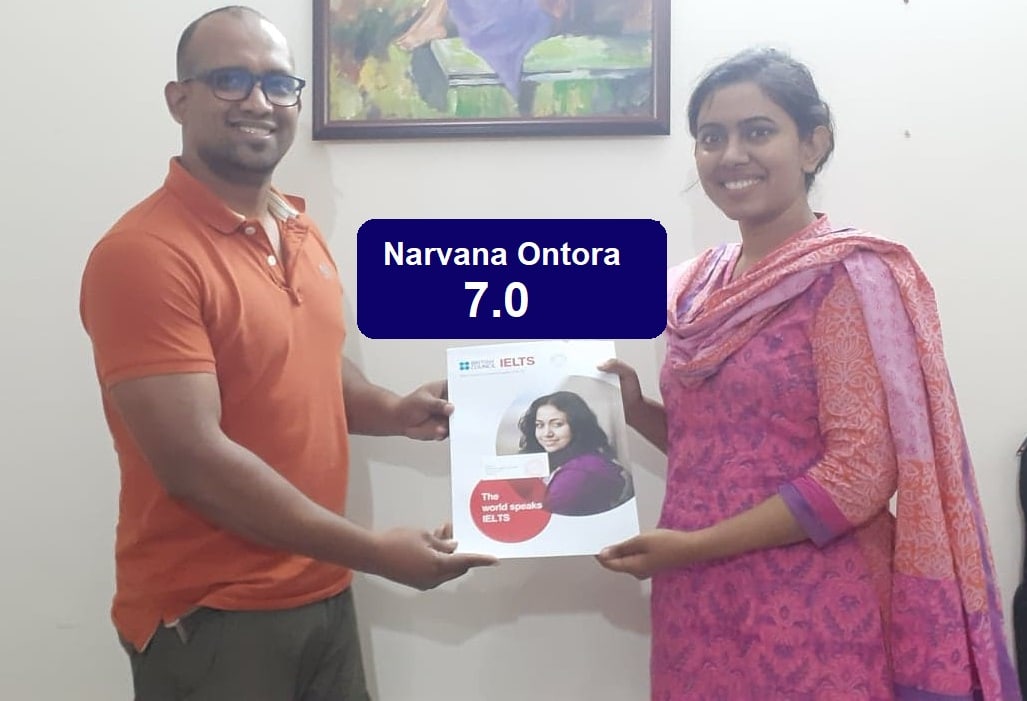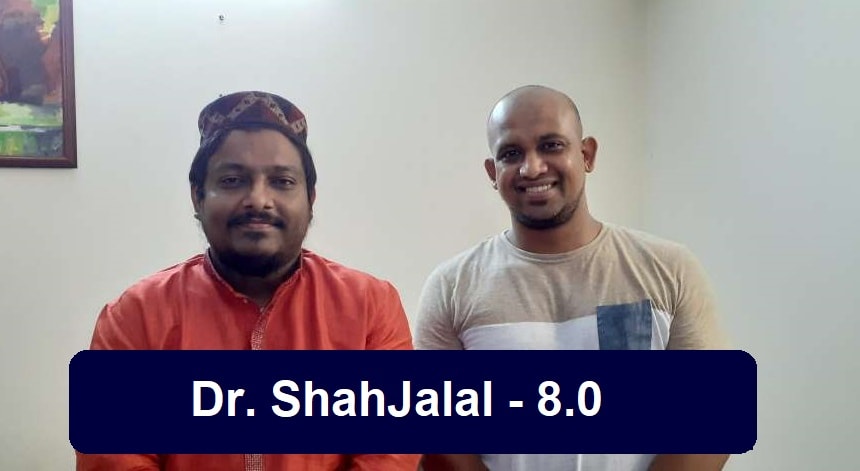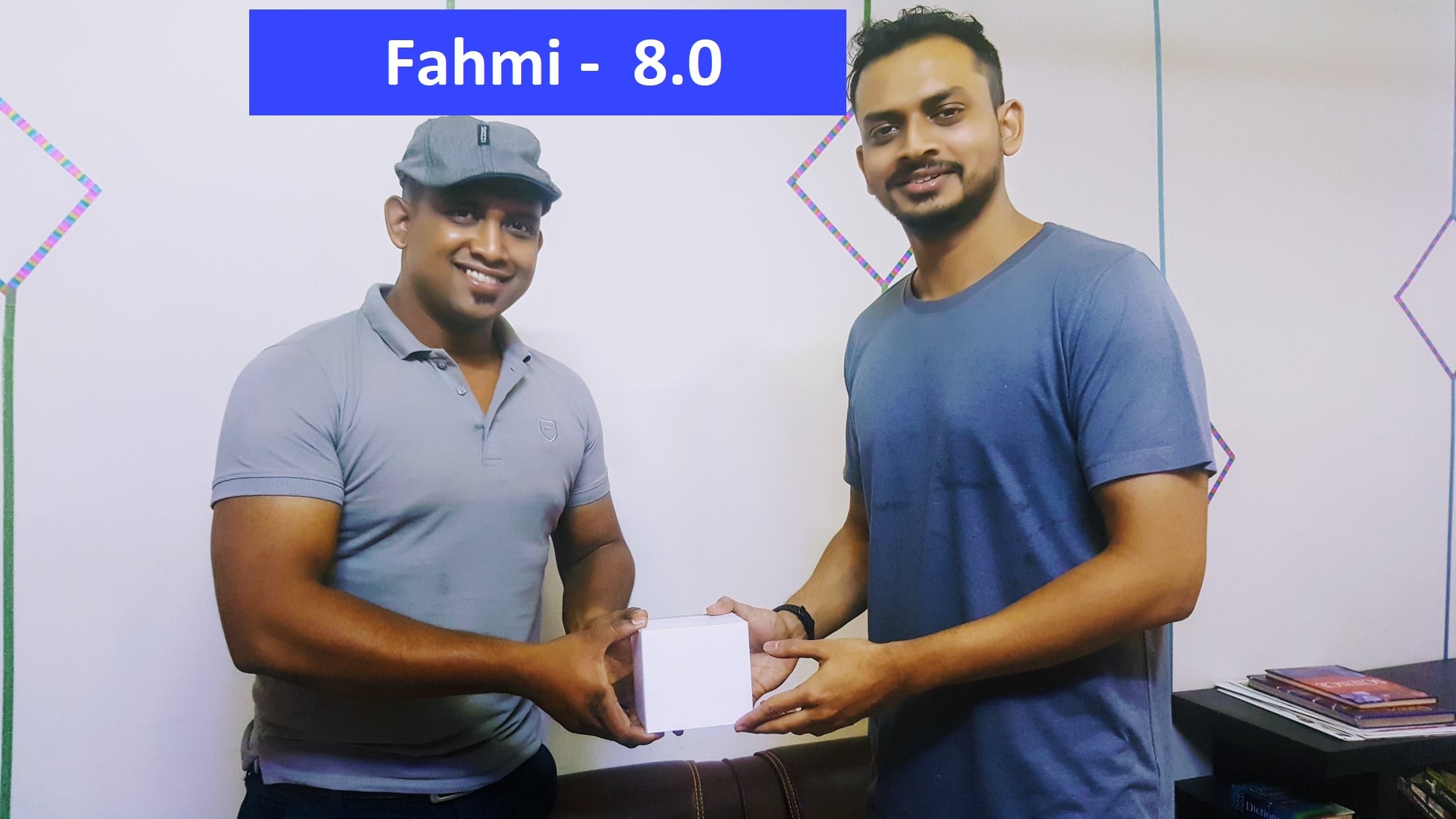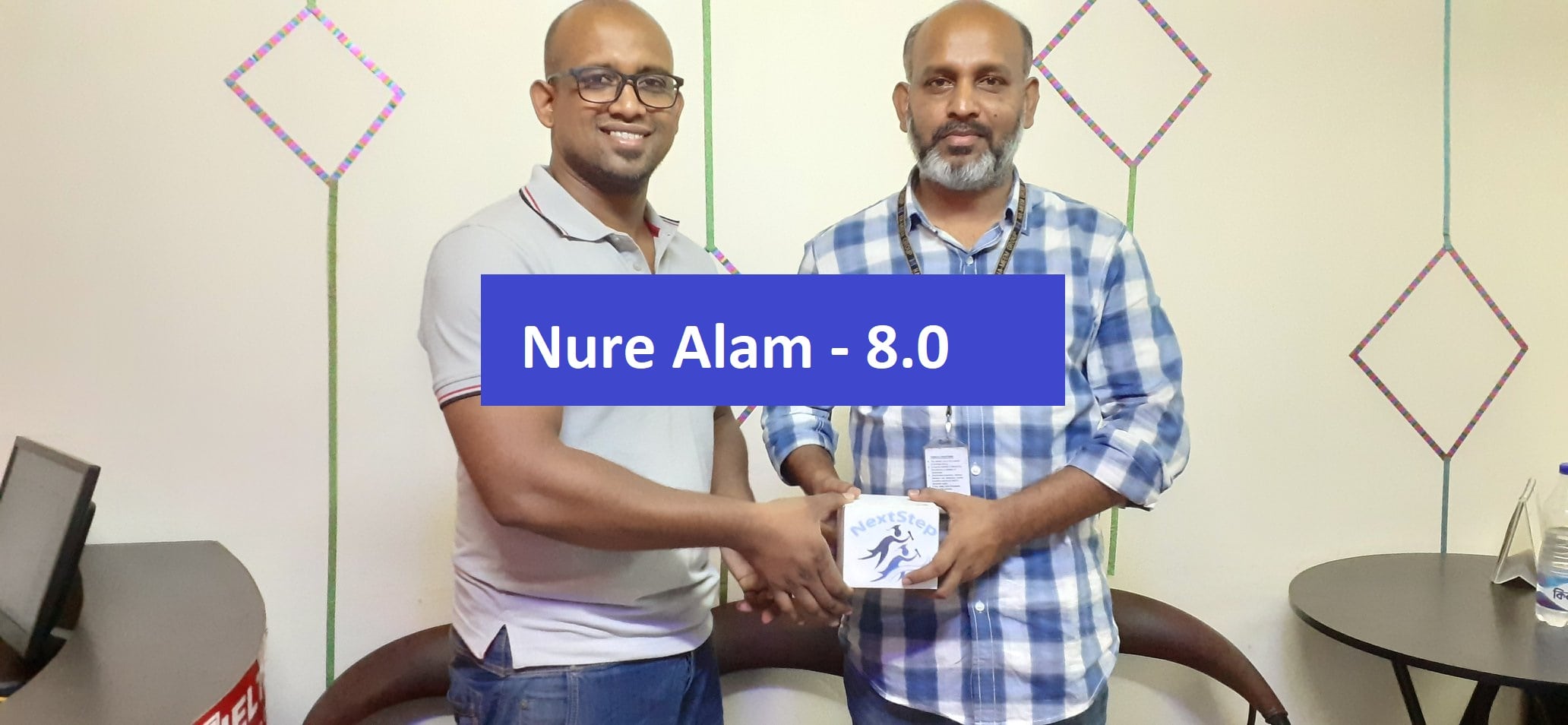 item caption 1
item caption 2
item caption 3
Good luck with your IELTS preparation 
NextStep – IELTS Coaching in Dhaka